Opera x Metamorphoses
OXM is a multimedia theater production that reinterprets four stories from Ovid's ancient narrative poem that was staged in April 2018 with director/writer Rocky Bostick and choreographer Ann -Marie Gover. Jack composed 90 minutes of music, which were set to dance, dialogue, and video as part of a devised process in which the team collectively authored the show in the rehearsal room. Below is a promo from the Byblis narrative, featuring Jaquana Ricks, and photos from the April production. More videos from the April production coming soon!
Released on, July 20, 2018, Gather is Jack's biggest project to date. Eight tracks run continuously into one another for 48 minutes of seamless music that leaps dramatically between styles and moods.
Other ize
For two male vocalist, violin, cello, and piano, Other Ize reflects on an encounter between strangers. Performed on May 2nd, 2017, at Yale University by Miles Walter, Kenyon Duncan, Serena Shapard, Benjamin Fleischacker, and Alois Cerbu.

In response to Art
Yosemite: The Incomparable Valley
Jack was asked to construct a musical response to the Yale University Art Gallery's new exhibition on the Yosemite Valley. The program he put together was a mix of through composed pieces and structured improvisations performed by two guitars, trumpet, cello, and bass, and various subsets of that group.
This first pair of pieces, the first a quartet and the second a duet, opened the concert: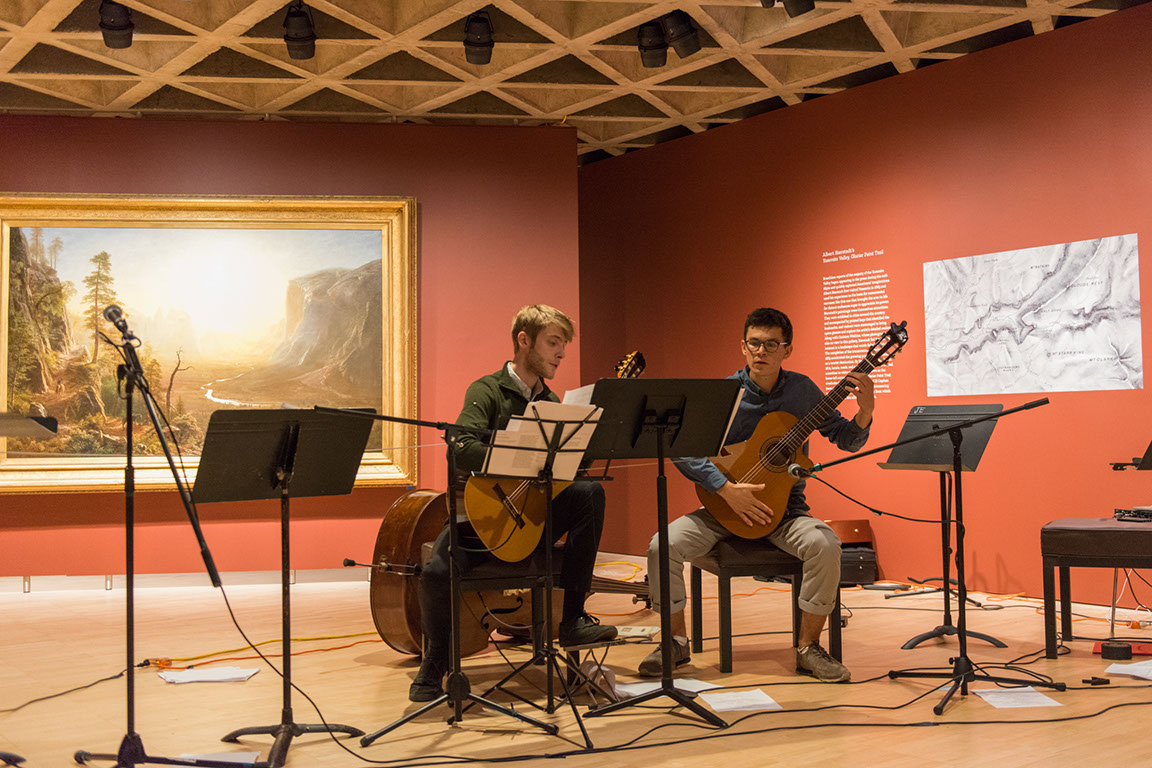 Harlem Renaissance
There Are No Words was composed for a concert in the Beinecke Library exhibition on the Harlem Renaissance. The duet for marimbas is a response to photographs of the "Silent Parade" of 1917, which was one of the first major protests to jim crow. A crowd of thousands of African-Americans gathered on 59th St. and marched in silence down 5th Avenue in a powerful gesture of solidarity.
I've ONly Been Young
I've Only Been Young is Jack's first multi-movement chamber work. Written and recorded over an eight month span, the duet for nylon string guitars presents Jack's voice as both an instrumentalist and a composer. The work is in six sections: three full fledged movements that each explore different textural worlds alternate with three shorter segments (a prelude, and two interludes).
I've Only Been Young - 2016, for two guitars [25']
Prelude - Our Song [2']
I - Breathing Time Machine [4']
Interlude I [2']
II - I Drifted. [8']
Interlude II [1']
III - Thinking Too Much or Not Thinking At All [8.5']
Workshop Duo
Jack and pianist composer Curtis Colton Green together form Workshop Duo, a jazz and new music guitar-piano composer/performer ensemble.